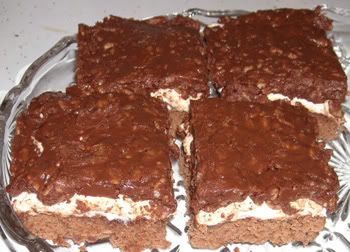 I found this gem in a Taste of Home cookbook and it is wonderful! It really does remind me of a Mississippi Mud style recipe. There is a wonderful mix of textures with the soft cake, gooey marshmallow center, and hard chocolate topping. These squares are high on my list of favorite goodies.
Chocolate Marshmallow Squares
3/4 cup tub margarine
1 1/2 cups sugar
3 eggs
1 tsp vanilla
1 1/3 cups flour
3 tbls cocoa
1/2 tsp baking powder
1/2 tsp salt
4 cups mini marshmallows
Topping:
1 1/3 cups chocolate chips
1 cup natural creamy peanut butter
3 tbls tub margarine
2 cups crisp rice cereal
Cream margarine and sugar. Add in eggs and vanilla. Add flour, baking powder, salt, and cocoa to mixture. Spread in greased 9x13 pan and bake at 350 for about 20 to 25 mins or until cake tests as done. Spread marshmallows evenly over cake and return to oven to 3 mins. Spread melted marshmallows around with a butter knife. Cool.
For topping combine chocolate chips, peanut butter, and margarine in saucepan. Cook over low heat until melted. Remove from heat and stir in cereal. Spread over bars and chill.