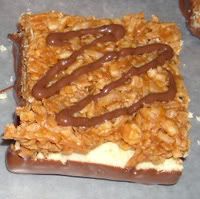 I adore the Samoas Girl Scout cookies. They will always be my favorites. I haven't bought them in years though....the price of those bad boys kept creeping up and up.....shoot I don't even know what a box goes for these days. Anywho I ran across a recipe for them
here
and they had to be made. Awesome recipe that really captured the flavor of the original cookie. Ehehehe...I know a recipe has turned out right when Paul says the cookies must leave the house before he consumes them all.
Samoas Bar Cookies
Cookie base:
1/2 cup sugar
3/4 cup tub margarine
1 egg
1/2 tsp vanilla
2 cups unbleached all purpose flour
1/2 tsp salt
Preheat oven to 350F. Grease a 9×13-inch baking pan. In a large bowl, cream together sugar and margarine, until fluffy. Beat in egg and vanilla extract. Beat in flour and salt. Pour dough into prepapred pan and press into an even layer. Bake for 20-25 minutes, until base is set and edges are lightly browned. Cool slightly.
Topping:
3 cups sweetened coconut
12 oz caramels
1/4 tsp salt
3 tbls skim milk
12 oz milk chocolate chips
1 tbl shortening
Preheat oven to 300. Spread coconut evenly on a baking sheet with sides and toast 20 minutes, stirring every 5 minutes, until coconut is golden. Set aside while it cools.

Unwrap the caramels and place in a large microwave-safe bowl with milk and salt. Cook on high for 3-4 minutes, stopping to stir a few times to help the caramel melt. When smooth, fold in toasted coconut with a spatula. Put dollops of the topping all over the cookie base. Using the spatula, spread topping into an even layer. Let topping set until cooled. When cooled, cut into bars.
Once bars are cut, melt chocolate and shortening in a small bowl in the microwave. Dip the base of each bar into the chocolate and place on wax paper. Transfer all remaining chocolate (or melt a bit of additional chocolate, if necessary) into a ziploc bag with the corner snipped off and drizzle bars with chocolate to finish.