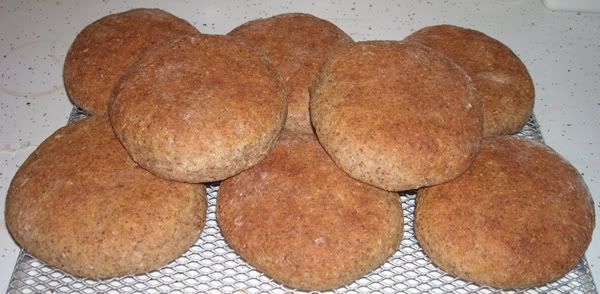 Since the hubby and I tend to eat a lot of sandwich type things I just had to work on making my own hamburger buns. I think I'm finally happy with the recipe though I do tend to tinker with it from time to time. I like a lot of different flavors mixed up together instead of just whole wheat. I tend to limit my use of whole wheat really.....not especially fond of that flavor when it's dominant. The salt content is kept fairly low in the recipe...one of my goals in bread baking was enough for flavor but not so much that it takes a chunk out of the daily ration of salt. There is an insane amount of salt in breads available at the grocery. Honestly I saw a whole wheat the other day that had something like 230mg salt per slice....crazy.
Multi Grain Hamburger Buns
1 pack active dry yeast
2 to 3 cups all purpose flour
1 cup oats, ground
1 cup warm milk
1 tbls oil
1 tbls honey
1/4 tsp salt
1/2 cup no fat plain yogurt
1/3 cup wheat germ
1/3 cup whole wheat flour
1/3 cup oat bran
2/3 cups milled flax
3 tbls vital wheat gluten
Dissolve yeast in 1/3 to 1/2 cup warm water. Add in warm milk, oil, honey, and salt. Stir in yogurt....I heat up my yogurt slightly just to take the cold out of it. It's not critical that you do that but it works for me. Add in wheat germ, whole wheat flour, oat bran, flax, ground oatmeal, and vital wheat gluten. Mix in all purpose flour until mixture is too stiff to work in the bowl. Turn out onto a board and knead in remaining flour. (flexible cutting mats make a fabulous surface to work bread on) Continue to knead dough for about 8 to 10 minutes adding flour to keep dough from sticking. Place in bowl and cover, letting rise in a warm place for about an hour. I generally use the microwave for this step...heating up a mug of water to steaming before putting my bread bowl inside.
After bread has risen turn back out onto your board and punch down. Divide into 8 portions. I work each portion folding the dough in towards the center until it's slightly stiff....keeping it generally in a circular shape. Then I put that portion on a greased cookie sheet pressing it out into my bun shape. Repeat for the other portions. Cover and let your tray rise for another hour. I reheat my mug of water to steaming and put it on the bottom of the oven and side my tray of buns above it. Normally the second rise is more like 30 minutes, but the buns need an hour to really get nice and puffed up.
Bake your buns at 375 for 20 mins or until nicely browned. Cool on rack.
And now for a few photos as I was forming up my dough...
My pretty dough all nicely worked and ready for it's first rise.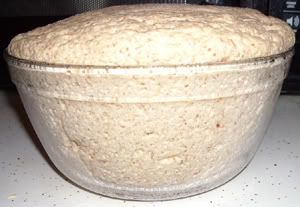 After the first rise the dough should be nice and puffy about double in size.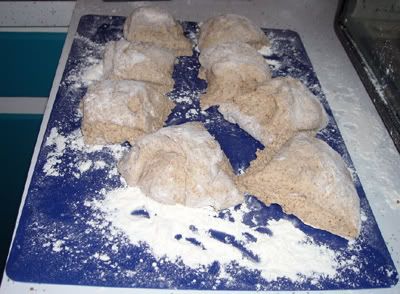 Dough is divided and all ready to be worked and shaped into buns. Love...love...love the flexible cutting mats for my work surface.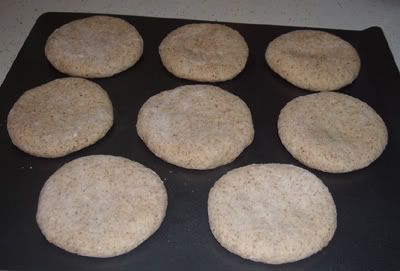 Dough is shaped and pressed down on cookie sheet waiting for it's next rise.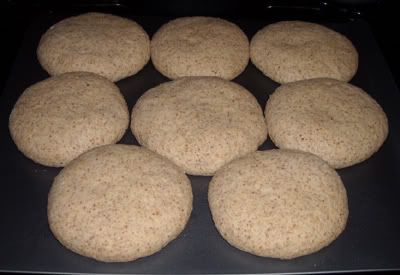 Buns are all nice and puffy after the second rise and ready to be popped into the oven.