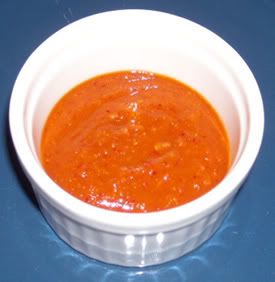 So very many hot pepper sauces and condiments are loaded with salt that I decided to try out my own quick hot pepper sauce. Salt content has really motivated a lot of experimentation in the last year....ehehehe. Anywho, this is a super fast and tasty recipe. Generally I don't keep it in the fridge beyond a week, but it rarely lasts that long. This recipe makes around half a cup give or take.
Hot Pepper Sauce
20 dried hot red peppers
2 tbls apple cider vinegar
1 slice sweet onion
1 tbls garlic
1/2 tsp brown sugar
1 tsp worcestershire sauce
1/8 tsp salt (or to taste)
Hydrate peppers in hot water for about an hour. De-stem and squeeze out excess water from the hydrated peppers as you toss them into a blender. Add in remaining ingredients and blend everything together until smooth. Pour container and chill. (You can also simmer the sauce after you blend everything together if you want to go a step further...sometimes I do this and sometimes I don't.)
Hydrating peppers the easy way...so much harder for me to keep all the peppers pressed under the water in a bowl rather than a mug. Do you have to use dried peppers in this sauce? Heck no. You could use fresh peppers, but the volume would be a problem if you are using larger peppers. I think you would end up with less heat in the end. I usually don't see fresh peppers in the cayenne style, but that could just be my grocery.
I love the little bullet blender type deal for this sauce. It's a relatively small amount of ingredients so I get a smoother blend.