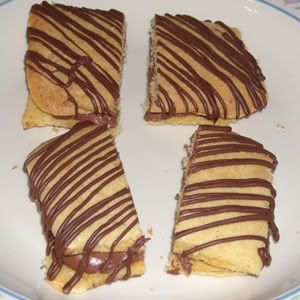 These cookies are so very tasty.....definitely added to my list of favorites. They have a wonderful light flavor. The filling is a bit of a surprise as I expected to taste chocolate first, but the lemon stood out the most.
Chocolate Filled Lemon Sandwich Cookies
Cookies:
2 1/4 cups unbleached flour
1 tsp salt
1 tsp soda
1 1/2 cups sugar
1 cup tub margarine
1 tsp lemon extract
1 tbls lemon peel
2 eggs
Cream the sugar and the butter together. Add eggs, lemon, extract, and lemon peel. Add flour, salt, and soda. Drop by teaspoon onto greased cookie sheets and bake 15 to 18 minutes at 375. Cool.
Filling:
14 oz fat free sweetened condensed milk
1/2 cup lemon juice
1 tbls lemon peel
4 cups powdered sugar
12 oz chocolate chips
Mix sweetened condensed milk, lemon juice, and lemon peel together. Beat in powdered sugar. Melt chocolate chips (I used 1/2 dark chocolate, 1/4 milk chocolate, and 1/4 semi sweet chocolate) in microwave stirring frequently until smooth. Add to milk mixture and stir into chocolate is mixed in well. Let filling sit while cookies finish cooling. It will thicken over time.
Spread filling generously between two cookies to form sandwiches. Melt additional 6 oz of milk chocolate in microwave until smooth, stirring frequently. Drizzle over top of cookies. Recipe makes about a dozen sandwiches.
A little photo action of the process....
I didn't plan to do a drizzle when I started making the cookies....but honestly they looked so plain and homely. They screamed out for chocolate stripes.
Oh yeah! Much prettier. Does bedazzled apply to cookies....ehehehe. I ended up cutting these in half as the cookies were fairly large. I actually didn't use a fork to do the drizzle this time. I spooned my melted chocolate into a ziplock bag with end cut off....mock pastry bag for the win.
I thought I was being fairly generous with the filling, but I still had a hunk left over. Next time a thicker coat is in order. It's possible the filling could stretch to cover a double batch of cookies, but I don't think it would be quite enough. Go for the thicker layer of chocolate...you know you want to. Meanwhile I tossed my leftovers into the freezer to be applied to something else down the road. You just can't let yummy chocolate go to waste. ;)