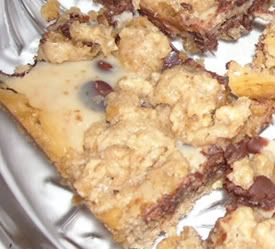 I adore the combination of the lemon and chocolate in this recipe....it really is divine. Summer always brings on the urge to make baked goods flavored with lemon and orange. I found the original recipe
here
on the Hershey website. I modified it of course not being a fan of white chocolate chips. If only white chocolate tasted as good as it sounds.
Lemon Streusel Bars
1 can (14 oz.) non fat sweetened condensed milk

1/2 cup lemon juice
1 teaspoon lemon peel
2 cups (12-oz. pkg.) Milk Chocolate Chips

2/3 cup tub margarine

1 cup brown sugar
1-1/2 cups unbleached all-purpose flour
1-1/2 cups old fashioned oats
1 teaspoon baking powder
1/2 teaspoon salt
1 egg
1. Heat oven to 350°F. Lightly grease 13x9x2-inch baking pan. Combine sweetened condensed milk, lemon juice and lemon peel in medium bowl; set aside. Measure out 1/3 cup chocolate chips; set aside. Add remaining chocolate chips to lemon mixture.
2. Beat margarine and brown sugar until blended in large mixer bowl. Add flour, oats, baking powder and salt, blending well. Remove 1-2/3 cups oats mixture; set aside. Add egg to remaining mixture, blending until crumbly. Press egg/crumb mixture on bottom of prepared pan. Gently spoon lemon mixture on top, spreading evenly. Add reserved 1/3 cup chocolate chips to reserved crumb mixture. Sprinkle over lemon layer.
3. Bake 20 to 25 minutes or until lightly browned. Cool then chill.