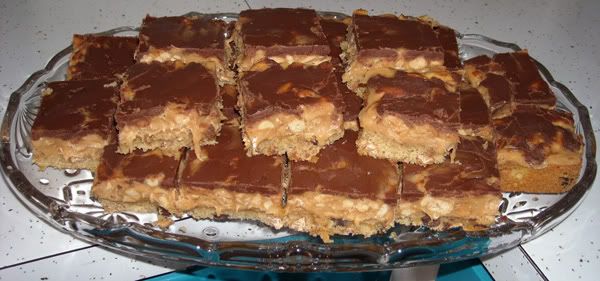 These are some very rich treats, but I do love the mix of textures and flavor.
Peanut Butter Cookie Squares
Crust:
1 1/8 cups unbleached flour
1/4 tsp salt
1/2 tsp baking soda
1/3 cup brown sugar
1/3 cup sugar
1/2 cup tub margarine
1/2 tsp vanilla
1 egg
1/2 cup dark chocolate chips
1/2 cup peanut butter chips
For crust cream sugars and margarine together. Add in egg and vanilla. Add in dry ingredients. Stir in chocolate and peanut butter chips. Spread mixture into greased 9x13 pan and bake 20 mins at 375. Crust will be lightly browned. Cool slightly.
Filling:
3 cups salted peanuts
2 tbls tub margarine
2 cups peanut butter chips
1 can non fat sweetened condensed milk
2 cups mini marshmallows
While the crust is cooling prepare the filling by melting margarine and peanut butter chips in a saucepan. Add in milk and marshmallows and stir until smooth. Remove from heat and stir in peanuts. Spread filling over crust. Cool slightly.
Topping:
6oz milk chocolate chips
1/3 cup peanut butter
1 tbls tub margarine (optional)
While topping is cooling prepare the topping by melting the milk chocolate chips, peanut butter, and margarine together. Spread gently over the top of the filling. Cool then chill. Cut into squares.